Orange County Disability Harassment Attorney
Coping with a disability can be challenging enough without having to endure harassment in the workplace. If you're experiencing harassment due to your disability, you need to know your rights so you can put an end to the illegal harassment you're facing. California and federal law make it illegal for your employer to harass you due to your disability. The purpose of these laws is to make sure that all people with disabilities have equal access to jobs and fair treatment.
Contact the Orange County employment attorneys at the office of Sessions & Kimball by using our online contact form or call us at (949) 380-0900 for a free consultation today.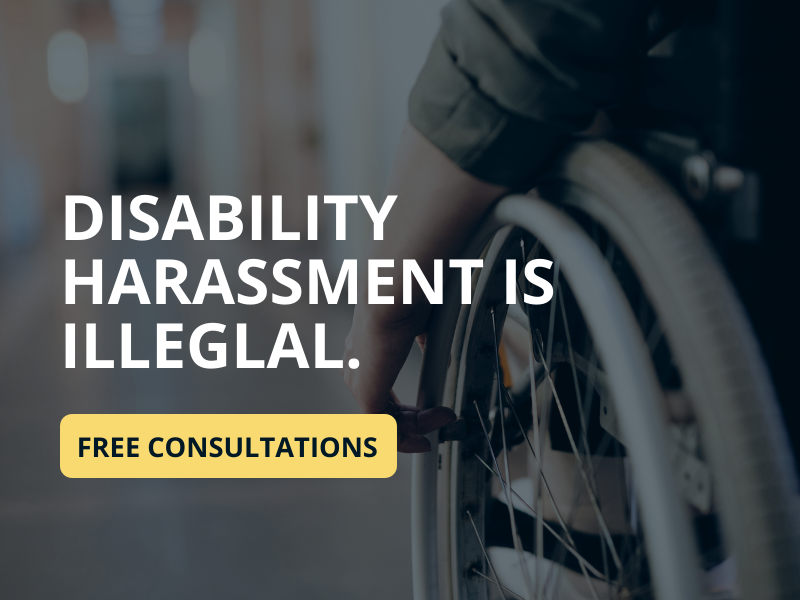 The California Fair Employment and Housing Act
Employees and job applicants with disabilities are protected under the California Fair Employment and Housing Act ("FEHA"). FEHA makes it unlawful for an employer to harass employees or applicants because of their medical conditions, physical disabilities, or mental disabilities. FEHA also requires employers to take all reasonable steps to prevent harassment.
Who Does the FEHA Apply To?
FEHA applies to public and private employers. This law makes it illegal for employers with five or more employees to harass job applicants and employees based on their disability. It also requires that employers make reasonable accommodations to employees with disabilities so they can perform the essential functions of their job unless it would cause the employer undue hardship.
Reasonable accommodations can include altering an employee's job duties, providing unpaid leave, allowing an employee to use assistive aids and services, changing a person's work schedule, modifying how the employee is supervised, and relocating a person's work area, among other things. FEHA also makes it illegal for an employer to retaliate against an employee who requests an accommodation or makes a complaint about disability harassment.
Federal Disability Laws
There are federal laws that provide similar protections for people with disabilities. The Americans With Disabilities Act ("ADA") makes it illegal for employers to harass an employee or an applicant based on their disability. It also requires employers to provide reasonable accommodations unless it would create an undue hardship for the employer. As reported by the Equal Employment Opportunity Commission ("EEOC"), offensive remarks about an employee's disability, for example, are likely illegal and constitute harassment if they are severe and frequent enough to create a hostile work environment.
Sessions & Kimball LLP's attorneys are well-versed in all types of workplace discrimination and harassment. They have recovered millions of dollars for employees who have experienced disability harassment at work. We are proud to dedicate our practice to protecting and enforcing the rights of California employees.
Why You Need A Discrimination Lawyer
If you're experiencing harassment because of a disability, you should contact an attorney immediately. Disability harassment is unacceptable and should never be tolerated. A lawyer can help you determine if what you're experiencing is illegal and can help you determine what possible remedies there are. At Sessions & Kimball, we are pioneers in employment law. Founding partner Don Sessions started representing only employees in the 1980s, decades before other Orange County attorneys did. The experience we have handling these types of situations is unparalleled, and we'd be happy to help you.
Requesting A Reasonable Accommodation
If you are a disabled employee and you are requesting that your employer offer you reasonable accommodation, it's essential to know what steps you need to take. The first thing that needs to occur is a conversation between you and your employer. In this conversation, you and your employer will need to determine the essential functions of your position. The following factors, among others, are considered in determining whether a job function is deemed essential:
Whether the position exists specifically to perform that function;
Whether not all employees could perform that function; and
Whether the function is highly specialized.
Once you and your employer determine the essential functions of your position, you and your employer should discuss your disability and what limitations it causes you in regards to your ability to perform the essential functions of your job. The purpose of this conversation is to try to figure out what kind of accommodation is appropriate and if it's something that your employer can offer without causing undue hardship for them.
Remedies For Disability Harassment
Before you can sue your employer for disability harassment, you generally have to file a claim with The California Department of Fair Employment and Housing ("DFEH") and the Equal Employment Opportunity Commission ("EEOC"). Once you file the complaint, you can request a right-to-sue notice, which gives you permission to file a lawsuit in civil court. It's a good idea to make sure you have an attorney before filing the complaint and requesting a right-to-sue notice.
Once you get the notice, there is a deadline for when you have to file a lawsuit. You don't want to miss out on the compensation you are legally entitled to simply because you missed the proper deadlines to file your claim. At any point before the case actually goes to trial and a verdict is announced, your employer has the option to try to settle the claim with you outside of court. If you follow through with a lawsuit and you are successful, you may be entitled to the following damages:
Back pay (including higher pay from a raise you should have been entitled to);
Front pay (including higher pay from a raise you should have been entitled to);
The value of your lost benefits (including lost pension benefits);
Emotional distress; and
Punitive damages.
What Is Undue Hardship in California?
Your employer is required to accommodate you if you have a disability unless it would cause them undue hardship. So in order to know your rights and make sure your employer isn't discriminating against you or refusing to provide you with a legally required accommodation, it's essential to understand how the law defines undue hardship. In this context, an undue hardship is somewhat challenging to define and is usually analyzed on a case-by-case basis. So here's what you need to know.
An employer has to show that an undue hardship exists. It will not be enough to just generally say it creates an undue hardship. They have to show what the hardship is and how it's affecting them. They must show that the reasonable accommodation you want would cause significant difficulty or expense.
Some factors when determining undue hardship include the cost of the accommodation, the overall resources and stability of the employer, the number of people employed, and the effect the accommodation would have on expenses and resources.
Undue hardship can take form in many different ways, not just financially. For example, certain accommodations may not cost an employer money but might be unduly extensive in scope, substantial, or disruptive. If that determination were made, the employer would not be required to make that particular accommodation for an employee.
Examples of Disability Harassment
Unfortunately, some employers, supervisors, and co-workers harass disabled employees simply because of that employee's physical or mental disability. There are many ways in which harassing behavior can be directed at employees with disabilities. Here are a few examples:
An employee who undergoes brain surgery is called a "plate head" or another derogatory name by co-workers when they return to work.
Co-workers intentionally tamper with a disabled employee's wheelchair and put up barriers that make it difficult for the employee to navigate the work area.
Supervisors and co-workers harass an employee with a visual impairment by intentionally bumping into that person.
An intellectually impaired employee has his lunch stolen by co-workers as a means of harassment.
A woman in a wheelchair is jokingly referred to as "Old Ironsides" by some co-workers.
What Constitutes Disability Harassment?
Harassment on the basis of disability consists of some type of conduct or communication that conveys hostility, aversion, or denigration because of a person's disability. This conduct creates a hostile, intimidating, or offensive work situation, unreasonably interferes with the disabled employee's work performance, and adversely affects the employment opportunities of the disabled employee.
What Is Considered A Mental Disability?
Most people are aware of disability harassment as it relates to someone who has a physical disability. It's also important to realize that disability harassment can occur because someone has a mental disability. This is defined as any mental or psychological disorder or condition that limits a major life activity. Some examples of mental disabilities include the following:
Bipolar disorder
Clinical depression
Schizophrenia
Anxiety disorders
Dementia
Intellectual disabilities
The following do not qualify as mental disabilities as it relates to legal protections:
Sexual behavior disorders
Drug and alcohol issues
Kleptomania
Pyromania
Gambling and other non-substance related addictions
Legal Advocates for Disabled Employees in Orange County
No disabled employee should have to suffer any kind of harassment at work. If you are being harassed or intimidated in the workplace on the basis of disability discrimination, our Los Angeles, Santa Ana, and Orange County employment law attorneys can help. Contact the office of Sessions & Kimball LLP to arrange for a free consultation. We will be happy to advise you of your legal options and whether or not you have a valid claim with which to seek justice and compensation. Contact a disability discrimination lawyer at the office of Sessions & Kimball for legal advice by using our online contact form, making an appointment, or calling us at (949) 380-0900.