Orange County Workplace Harassment Lawyer
Workplace harassment is on the rise. According to the most recent statistics published by the U.S. Equal Opportunity Employment Commission (EEOC), 26,221 harassment claims were filed across the country in 2019. California has consistently accounted for just over 7% of all charges received by the EEOC. Harassment in the workplace is illegal under state and federal laws. If you are a victim of this type of behavior, you deserve justice. Harassment in the workplace is never acceptable. Beyond being intolerable, it's also illegal. If you've been the victim of workplace harassment, you should speak to an experienced harassment lawyer today to protect your rights and pursue a proper legal remedy. The attorneys at Sessions & Kimball can help.
We are Orange County's most experienced employee's rights law firm with over 100 years of combined experience representing exclusively employees in these types of cases. You'll never pay us any fees until we win your case and you receive the compensation you deserve. Contact the employment lawyers at the law office of Sessions & Kimball by using our online contact form or call us at (949) 380-0900 for a free consultation today.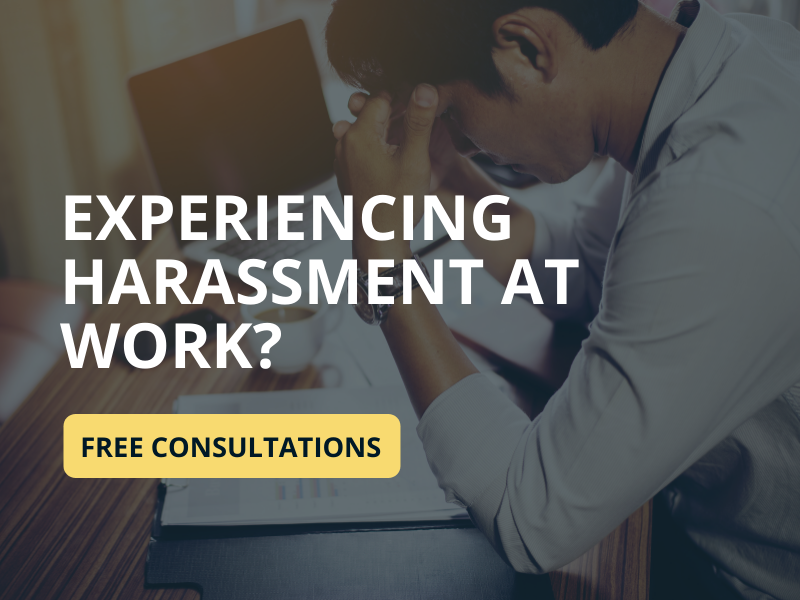 Workplace Harassment Resources
What Constitutes Workplace Harassment?
While sexual harassment in the workplace rightfully receives a lot of attention, other forms of egregious workplace harassment occur every day. Unwelcome conduct on the basis of one's color, race, religion, sex, age, national origin, sexual orientation, or disability, among other things, all constitute workplace harassment. Harassment is defined as unwelcome behavior based on a protected characteristic. For example, being harassed because of your gender or age. Harassment in the workplace can take many forms.
California uses a few different factors to determine if an environment is hostile or abusive. While not all minor isolated incidents will rise to the level of actionable harassment, improper conduct becomes illegal when it is a continued condition of employment that is pervasive or severe enough to create an intimidating, abusive, or hostile work environment.
Severity Conduct that is particularly egregious, even if it only occurs once, can be considered harassment and can be unlawful. An example of severe conduct would be physically touching someone without their consent. The more egregious the behavior, the less often it needs to occur to be considered unlawful harassment.
Frequency Conduct that is less severe can still be considered unlawful harassment if it is frequent enough. For example, an inappropriate comment that is made to the same employee every day could be considered harassment. Even if the comment isn't considered 'that bad,' if it happens often enough and causes that much discomfort to someone else in the work environment, it can be actionable workplace harassment.
Actionable conduct often occurs in the form of:
Offensive slurs or jokes
Name-calling
Bullying
Threats
Insults
Offensive images and objects
Favoritism and unequal treatment
Inappropriate propositions
These, however, are only some common examples. Illegal harassment can occur in a wide variety of workplace circumstances. If you think you've been exposed to improper conduct, you should consult an attorney to see if it rises to the level of actionable harassment. If you're in the state of California and feel you may be a victim of workplace harassment, make sure you familiarize yourself with important employment law.
Protection for Harassment Victims
Workplace harassment is illegal under both California and federal law. The California Fair Employment and Housing Act prohibit harassment of employees, applicants, and independent contractors. It also requires employers to take all reasonable steps to prevent harassment. Similarly, on a federal level, Title VII of the Civil Rights Act of 1964, the Age Discrimination in Employment Act of 1967, and the Americans with Disabilities Act of 1990 all prohibit discriminatory and harassing conduct by employers. These employment laws also prevent employers from taking retaliatory action against employees who speak up about improper discriminatory or harassing behavior.
Employer Liability in Orange County
An employer can be held liable for the actions of its employees in cases of workplace harassment. Employers are responsible for the harassing actions of supervisors when that harassment results in any adverse employment action against an employee, such as wrongful termination and unwillingness to pay for medical leave. Employers are likewise liable for harassment by other types of employees if they knew or should have known about it and failed to correct it.
It's important to know that under California Government Code §12940(j)(1), your employer is strictly liable for acts of harassment that are committed by an agent or supervisor. This means your employer is liable for the harassing conduct even if they didn't personally know about it and even if the employer has policies in place to try to prevent harassment from occurring. If you've been the victim of workplace harassment, someone must take accountability. Whether that's the perpetrator, your employer, or both, may depend on the situation, but your employer will often be liable.
How Does The Law Define Supervisor?
Since an employer is always strictly liable for a supervisor's harassing conduct, it's important to know how the word supervisor is defined. Under California law, a supervisor is "any individual having the authority, in the interest of the employer, to hire, transfer, suspend, lay off, recall, promote, discharge, assign, reward, or discipline other employees, or has the responsibility to direct them, or to adjust their grievances, or effectively to recommend that action, if, in connection with the foregoing, the exercise of that authority is not of a merely routine or clerical nature, but requires the use of independent judgment." Essentially, anyone who has the power to make essential workplace decisions in regards to other employees and has the discretion to make these decisions on their own is probably considered a supervisor.
What If The Harasser Is Not A Supervisor?
If the person who is guilty of harassment is not a supervisor, they can still be held liable for harassment. The only thing that changes is whether your employer can also be held responsible. If it's a co-worker that is harassing you, the following will have to be shown in order to hold your employer accountable for the harassment you're experiencing at work:
The employer knew or should have known of the harassing conduct, and
The employer failed to take immediate and appropriate corrective action.
Employer Responsibility When A Harassment Complaint Is Received
If you've been the victim of workplace harassment in Orange County, California, it's important to know what steps your employer is required to take. This way, you know what to expect, and you'll know if your employer is handling your complaint appropriately and correctly under employment law.
Your employer should conduct a thorough interview with the complaining party. This should be done in person if possible. This should be the first step in the investigation.
Your employer should also speak with the accused party so that they have the opportunity to tell their side of the story. This should also be done in person if possible. Anytime someone is accused of harassment, they are entitled to know what the allegations are. However, the accusations should be revealed to the accused party during this interview, not prior to it. In some cases, your employer might be able to maintain your confidentiality, but not always. It might be necessary to disclose the complaining party, or it might be clear who the complaining party is just by disclosing certain facts.
Your employer should also interview any other witnesses after speaking with the complaining party and the accused party. Your employer/the investigator should review all relevant documents as well. The investigator should exercise discretion regarding who they decide to interview and which documents they choose to collect and review. Any witness whose information could impact the findings should be questioned. Any documents that could confirm or undermine the allegations should be collected and reviewed as well.
Once the investigation has been completed, your employer/the investigator should come to a decision. Sometimes there are no other witnesses, and your employer will need to make a determination based on whose story they find to be more credible. Understanding the steps that your employer will take once you make a complaint is essential so you aren't caught off guard by anything that happens afterward.
Retaliation Is Illegal
One of the most important pieces of information you should know is that it is absolutely illegal for an employer to retaliate against you in any way for making a harassment complaint. Your employer should also make it clear to the accused that they will not tolerate retaliation of any kind. Retaliation includes obvious behaviors, such as wrongful terminations or demotions, but it can also manifest in different ways. For example, if a supervisor unfairly changes your assignment, ostracizes you by moving you to a secluded workspace, or gossips about you, this could also be retaliation.
Legal Help for Workplace Harassment Victims in Orange County
If you have experienced harassment in the workplace at the hands of your employer, supervisor, or co-worker, you have options. Seek legal advice from the Orange County workplace harassment lawyers at Sessions & Kimball LLP who are experienced in protecting the rights of employees who have been victimized on the job. We are here to see that you resolve your claim fairly, and we will pursue full compensation for any injuries you have suffered. You can trust our employment attorneys in Orange County, Santa Ana, and Los Angeles to handle your case in a professional and confidential manner.
If you'd like to discuss your workplace situation or the possibility of bringing a harassment claim or wrongful termination claim, contact the office of Sessions & Kimball by using our online contact form or call us at (949) 380-0900 for a free consultation with an experienced Orange County employment lawyer today.