Harassment of Women: Holding Employers Accountable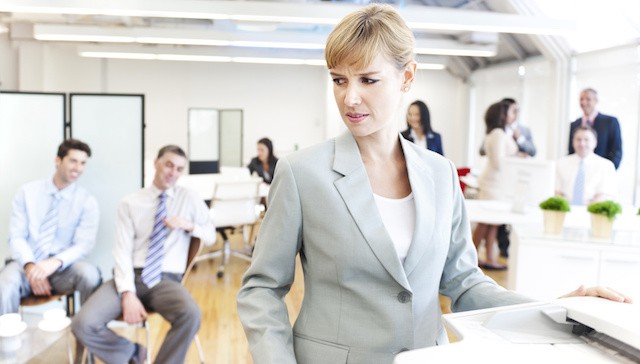 Even in the 21st Century, women are still being harassed in the workplace at rates far greater than men. The Equal Employment Opportunity Commission (EEOC) reports 6,822 charges of sexual harassment filed in 2015, and only 17.1% were filed by men. Employers have a legal obligation under state and federal law to prevent any form of sexual harassment, including harassment of women at the workplace. If you have been sexually harassed in your place of employment, our sexual harassment attorneys in Orange County can help you take action to hold your employer accountable.
Laws Against Workplace Harassment of Women in California
Women are protected from harassment in the workplace under state and federal laws. The California Fair Employment and Housing Act (FEHA) prohibits discrimination on the basis of sex, the definition of which includes sexual harassment, gender harassment, and harassment based on pregnancy and childbirth, or any related medical conditions.
Discrimination on the basis of sex is also unlawful at the federal level, under Title VII of the Civil Rights Act of 1964. However, California employees typically seek relief under FEHA, as state law provides an even greater level of protection than provided under Title VII.
Employer Liability for Harassment of Women at the Workplace
FEHA strictly prohibits employers from harassing women or any employee in the workplace. Under certain circumstances, employers may be held liable for harassment, even if management was not aware that it was occurring, including:
Employers are strictly liable for harassment of employees by their agents or supervisors.
When the harassment is from another source, an employer that failed to take all reasonable steps to prevent harassment can be held liable when it occurs.
In addition to the employer's liability for harassment, the individual harasser can be held personally liable for damages.
Employer Obligation to Prevent Sexual Harassment
California employers have a legal obligation to take all reasonable steps to prevent harassment and discrimination. Employers are required to:
Post a DFEH sexual harassment poster in the workplace.
Distribute a DFEH brochure (or equivalent) to employees, providing specific information about sexual harassment, the laws that protect workers against it, the internal complaint process, filing a claim with DFEH, legal remedies, and protection against retaliation.
Employers of more than 50 employees must provide sexual harassment training to all supervisory employees.
Get Help From Experienced Sexual Harassment Attorneys
At Sessions & Kimball LLP, we have devoted our practice exclusively to representing employees in a wide range of discrimination and harassment matters, including sexual harassment. We represent women who have been harassed in the workplace speak up about sexual harassment to hold those who engage in these illegal acts accountable for their actions. You can have confidence that our employment law attorneys have the skills, knowledge, and experience to provide top-level representation for your case.
If you are a woman who has been harassed in the workplace, it is possible that your employer failed to take all reasonable steps to prevent it — or may have even perpetrated the harassment. Our Orange County sexual harassment lawyers at Sessions & Kimball LLP have been representing employees in harassment and discrimination claims since 1985. We have successfully handled thousands of cases and recovered millions in settlements and awards for our clients. Contact us for outstanding representation in your workplace harassment claim.